Apache OpenMeetings - Features and overview
Openmeetings provides video conferencing, instant messaging, white board, collaborative document editing and other groupware tools. It uses API functions of Media Server for Remoting and Streaming (Red5 or Kurento).
OpenMeetings is a project of the Apache, the old project website at GoogleCode will receive no updates anymore. The website at Apache is the only place that receives updates.
News
Version 5.0.0-M4 released!
Release 5.0.0-M4, provides following improvements:
This release provides WebRTC audio/video/screen-sharing in the Room
Flash plugin is no more required in the browser

Please NOTE: this version might be not production ready

IMPORTANT: Java 11 is required
UI:
Main UI library has been changed Jquery-UI -> Bootstrap
Hotkey to resize&arrage "video" windows is added
Camera/Microphone on/off icons are less confusing
The room can be blocked until moderator will enter
Room sidebar dock button works as expected
Right-click menu for WB tab is fixed
Link to privacy statement is added to sign-in dialog
Audio/Video:
Audio-only clients doesn't create "video" windows
Audio/Video stream tries to re-connect in case of any issue
Backup/Restore:
Backup/restore was re-worked and better covered with tests
Multiple other issues are addressed
Integration:
OAuth: user attributes retrieval is improved
LDAP documentation is improved
User picture can be retrieved from LDAP
Other fixes and improvements
56 issues are fixed please check
CHANGELOG and Detailed list
See Downloads page.
(2020-04-23)
Version 4.0.10 released!
Release 4.0.10, provides following improvements:
Backup/Restore:
Multiple issues with restore were fixed
Confirmation of backup import was added
File/recording hashes are preserved when possible
White board:
Document upload/conversion is improved
Whiteboards are not auto-created on room enter
Keyboard shortcut for quick poll is added
Room:
Other fixes and improvements
Please update to this release from any previous OpenMeetings release
11 issues are fixed please check
CHANGELOG and Detailed list
See Downloads page.
(2019-12-16)
Community
Who we are
Here
is the list of our commiters. Contributions are welcome :)
Feature details
Audio and Video Conferencing
Meeting recording and Screen sharing
Recorded sessions contain everything including sound recorded from all audio streams in exactly the way you've seen it in the conference.
Recorded sessions can be downloaded as AVI/FLV files.
Possibility to select a screen area for sharing.
Different quality steps for Screensharing.
Watch and organize recordings in an integrated Drag and Drop File-Explorer
File Explorer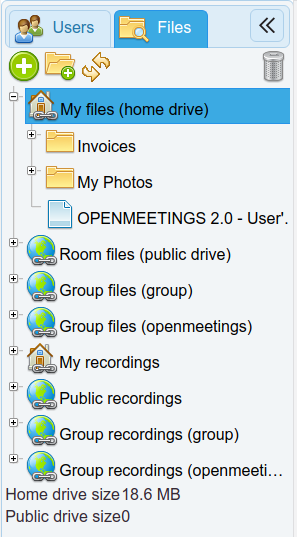 Advanced File-Explorer in every conference room, Drag and Drop interface for managing uploaded files, including the possibility to create a document tree with folders.
Private and Public Drive in File-Explorer. The File-Explorer has two different views, one is the Private Drive and the other the Public Drive. The Private Drive always contains the same files. Those files are visible only to the user currently loggedin. The Public Drive is not bound to the user, but to the conference room instead. All users in the conference room have access to the Public Drive.
Moderating System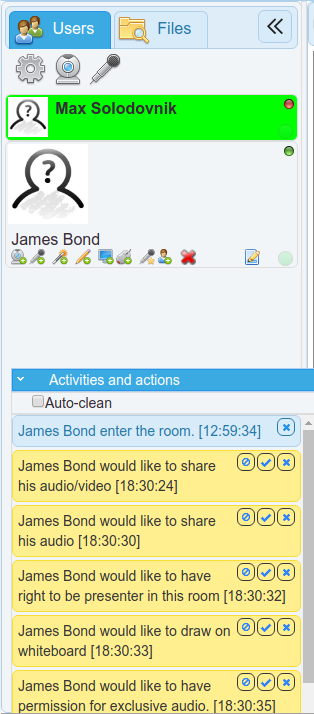 During a conference, the moderator can adjust the user permission to every user individually.
Allow/Deny moderation
Allow/Deny right to draw on white board
Add/Remove presenter role
Allow/Deny screen-sharing/record screen
Allow/Deny Remote Control Screen
Allow/Deny right for 'Mute others'
Let one user to speak while others are muted
Allow/Deny Video
Allow/Deny Audio
Multi-Whiteboard and Chat
Multi-Whiteboard, you can add new whiteboard instances, each white board can have the full range of tools and documents inside.

Save white boards. You can save each whiteboard instance as a file. The file is located in the File-Explorer and can be drag n' drop'ed to the white board again and organized like any other document, image or folder.

White board with drawing, writing, Drag n' Drop, Resizing, Images (Drag n' Drop from File-Explorer), Symbol(s)/Cliparts .

Full-fit does rescale the document on the screen to be 100% visible on all screens no matter what kind of screen resolution different users have.

You can import from a wide range of document formats (PDF, DOC, ODT, PPT, et cetera...)
User and room management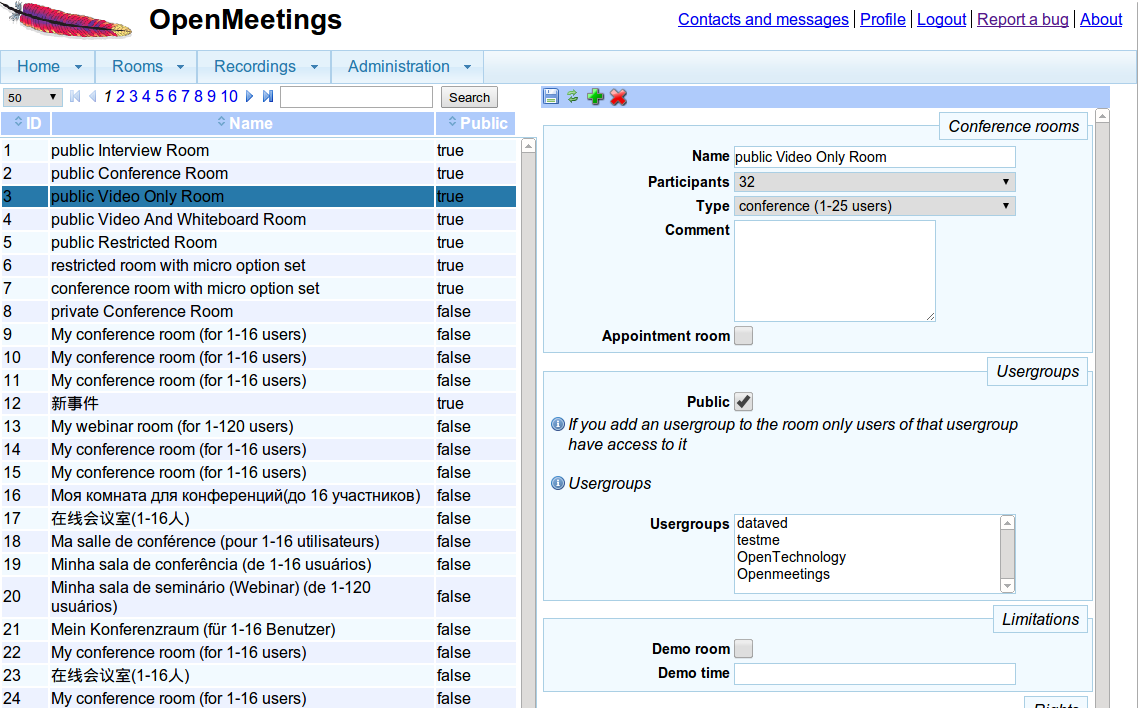 You can manage users and multiple organizations in a single OpenMeetings instance. You can also create users that only have access via the SOAP-API.

MyRooms section. Each user has by default 2 personal rooms that are always accessible exclusively for that user. There are buttons to enter those rooms from the Dashboard.

You can assign conference room to all users, or you can assign them only to specific user-groups.
Private message center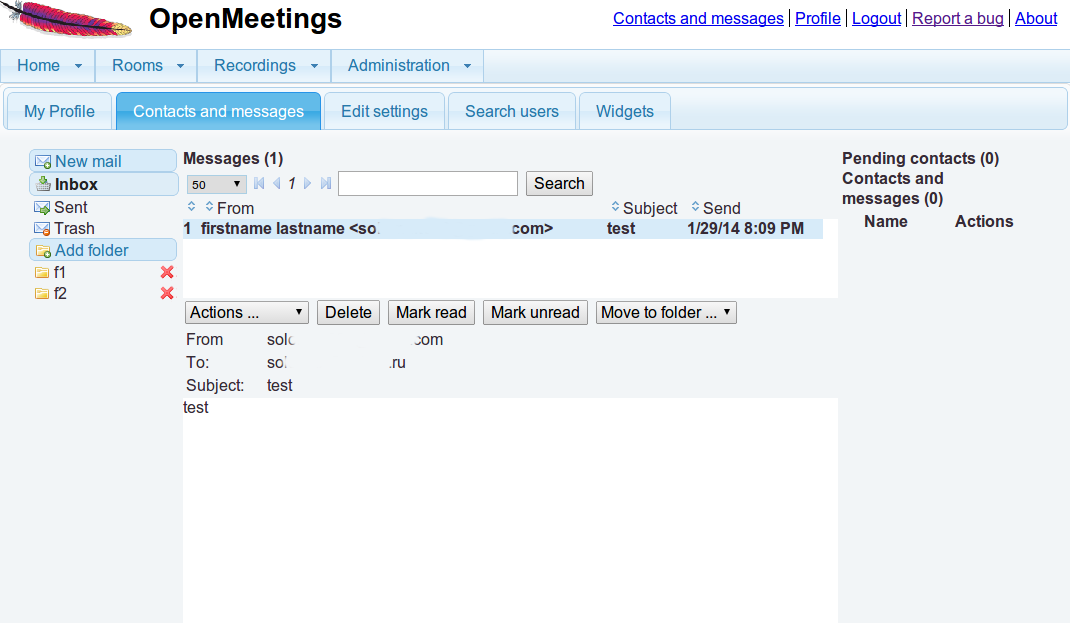 Send users messages and organize them in folders. You can book conference rooms by sending private messages. The booked event automatically is in your and the participants calendar, changes to that event will be populated to all users booked to the event.

User contacts, you can search users and add them to your contacts. You can even give them the right to see your calendar.
Plan meetings with integrated calendar
Apache OpenMeetings, OpenMeetings, Apache, the Apache feather, and the Apache OpenMeetings project logo
are trademarks of the Apache Software Foundation.